GOC 2015 WORLDWIDE EVENT - 11-12 December, Wuhan China
The highly anticipated GOC 2015 overclocking event is nearly upon us, with the official date of 11-12th of December 2015, held in Wuhan China. Winners of the first stage 3DMARK Fire Strike and 3DMARK 11 benchmark scores have been invited to take the main stage and go head-to-head for the top world-record-breaking scores live at GOC 2015.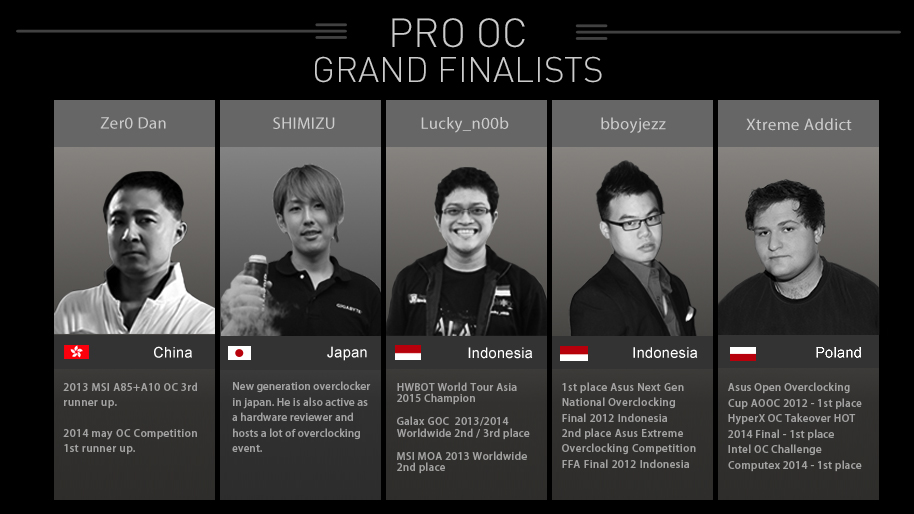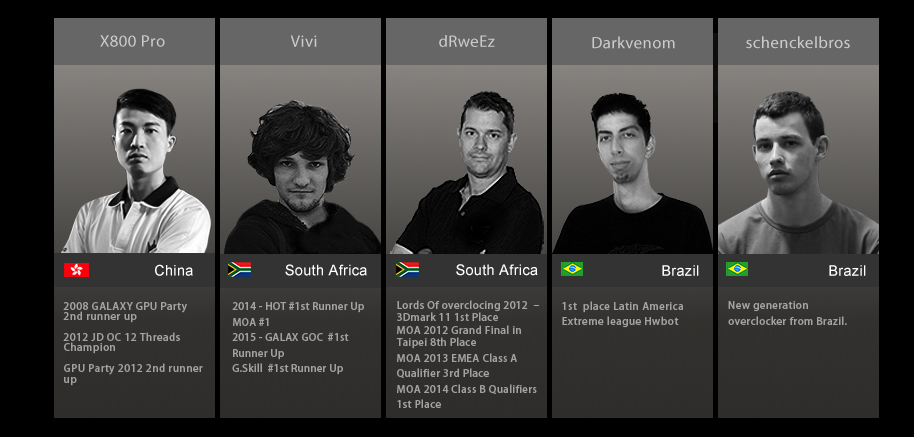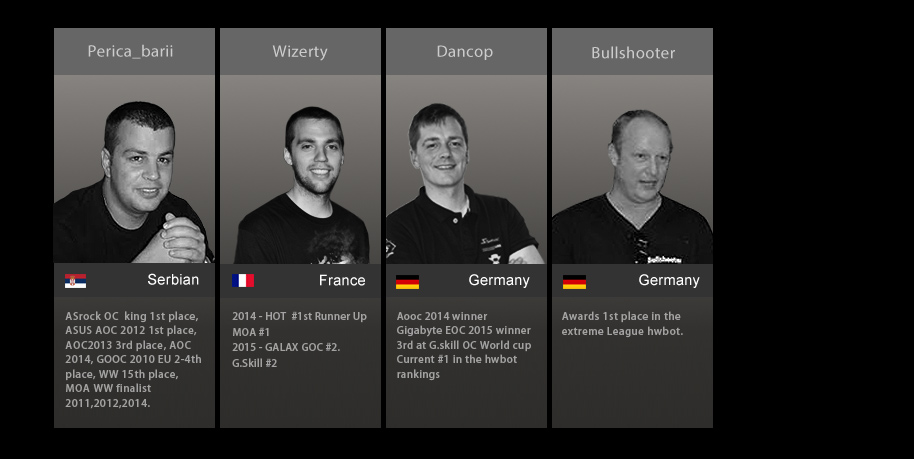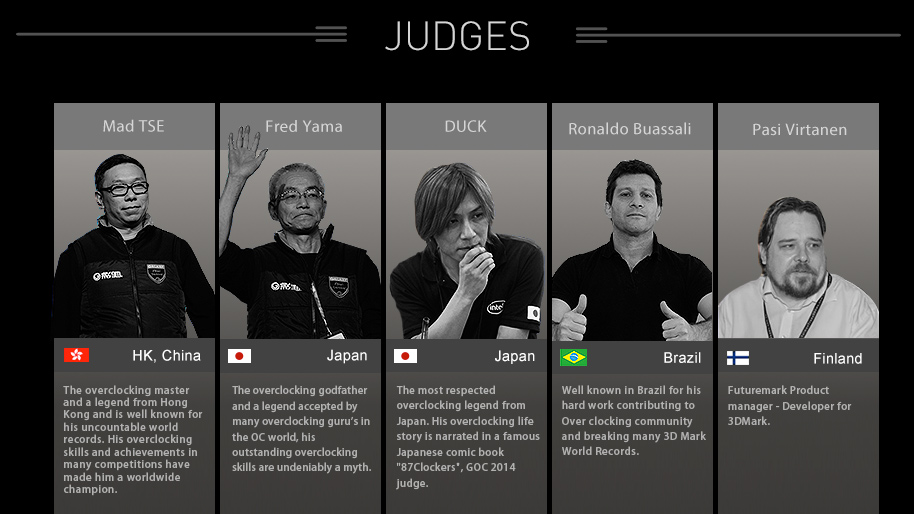 Final competition:
Competition Hardware:
Competing overclockers with the GTX 980 Ti HOF GOC + a selection of several parts.
Hardware selection goes as follow:

Motherboard: BYOH (Bring Your Own Hardware)
Graphics Card: GTX 980 Ti HOF LN2
CPU: Intel 5960X (max 5.5GHx +/-12MHz for 3D stages) (BYOH on day2)
Memory: DDR4 HOF
PSU: 2000W
SSD: SSDs (OS installs ready)
Competition Benchmarks:
The competition is split in two parts. 2D and 3D. For the 2D part, there is only one benchmark: SuperPi 32M. And for the 3D stages, we will have a selection of 3DMark Fire Strike, Fire Strike Ultra and Fire Strike Extreme.

Point calculation as follow based on rank: 28, 26, 24, 22, 20, 18, 16, 14, 12, 10, 8, 6, 4, 2. 
Cash prizes for the top ranked will be distributed as such: CNY $30,000 / $20,000 / $10,000


Day 1: Solo 2D and 3D Benching:
Day 1 involved the serious competitive stuff with cash prizes available for winners. 1st place won CNY $30,000, 2nd place CNY $20,000 and 3rd place won CNY $10,000. Benchmarks used as below:


SuperPi 32M
3DMark Fire Strike
3DMark Fire Strike Ultra
3DMark Fire Strike Extreme
Points were calculated and spread out in increments of 2, i.e. thusly: 28, 26, 24, 22, 20, 18, 16, 14, 12, 10, 8, 6, 4 and 2.
Day 2: OC Record Day:
Day 2 was a simpler affair where all overclockers are encouraged to simply break records. All contestants were allowed to use their own CPU but could also use the one from Day 1 if needed. Any platform was welcome and DDR4 was made available to contestants. All validated records broken on the day received CNY $3,000 in raw cash! Here's a list of benchmarks which, with exception of memory clock frequency, are predominantly 3D oriented, a great way to showcase the HOF series, GTX 980 Ti HOF GOC cards.


3DMark Fire Strike, 1x/2x/3x/4x SLI
3DMark Fire Strike Extreme, 1x/2x/3x/4x SLI
3DMark Fire Strike Ultra, 1x/2x/3x/4x SLI
3DMark11 Performance, 1x/2x/3x/4xSLI
3DMark Vantage Performance, 1x/2x/3x/4x SLI
DDR4 Memory Frequency